#53: 278 days until Ironman Red-emption!
I started getting my head together and planning out (high-level) the next phase of training moving toward Ironman US Championships in NYC next August. Never too early to start planning right? Well, when it comes to Ironman, because of the limited choices and the growing popularity of the sport, this holds true. In a sense, I've been planning this out (loosely) since May 8th (the day after St. Geo), but now it's getting time to get serious.


Phase-1 was to get some additional racing under my belt this summer and fall. I did a 10K, an Olympic Triathlon, a sprint-Duathlon, a 1/2 marathon and am getting closer and closer to another marathon. I've felt pretty good about this so far improving on each of my times. If I stay focused, I'm confident I can do the same with the marathon as well.


Phase-2 is to plan out a 6-8 month training plan which will include a not-entirely-off season component, an aerobic + general strength component, an aerobic-build component


Phase-3 will be some build and power phases and then race-day with hopefully a top-notch performance and possibly even a Red-iculous effort.


In order to achieve all of this, I've got to find a way to keep it fresh and exciting, to push myself hard (but not too hard) and to steadily build over another long period. Whew.


To do this, I'll likely need a few races mixed in with all of the training and right now, I'm looking at a few that will be tough, but that will keep me focused in training:


May = NorthFace Trail Running Festival, Bear Mountain, NY: I'm SERIOUSLY contemplating signing up for a 50 mile trail run…….in general this is stupid…..but I'm contemplating anyway. I'm thinking the technical terrain would FORCE me to take it slow and it would put something very challenging on my calendar early in the season. The only drawback here is that I would be knowingly going in a bit under-prepared. It wouldn't be wise for me to bring my mileage up that far that fast on the run while still training for the bike and swim (which should be my focus in the winter)……so I'd be testing the theory that cross training can be almost as good as run training for running. Hmm….


June = Blackbear Olympic Triathlon – a new race for me, but I've heard it's a good one.


July = Amica 1/2 Ironman in Providence RI – again, a new race for me, but puts me in a good spot to ready for the NY August heat.


August = Ironman take 2.


But let's not get ahead of ourselves……I still have a little jog on 12/10 (Rehoboth Beach Marathon) to be ready for.


2-3 more hard weeks prior to final redemption stop 2011


OK, so this is actually Soledad O'Brien's knee,
but you get the idea.
This week I set out to get a little healthier: to get the left knee back in-line, to make sure the cranky here-and-there right hip didn't get too out of sorts and to make sure I could recover a little during this down-week and come back strong for my last couple of build weeks before taper and 12-10-11 marathon.


At Pro-Activity we talk about "recover" as one of our core human-elements and this was my week to put it into play. From a training perspective, there was nothing special about it….I traded intensity for volume, which allowed me to recover some, but still move things forward.


Monday = 10.5 mi tempo run: I pushed the pace for the first 6-7 mi and then eased across the last few as a test of the knee. It was stiff by the end, but it held up and I was happy with the result.


Tuesday = I took off completely from training.


Wednesday = joined in with a group of runners on the Columbia Trail for 8 headlamp miles and got to test my knee…..and ankle……and hip…..and reaction time, perhaps a little more than I had hoped. Sticks and stones may break my bones anyone? Well, thankfully they didn't, but they didn't go down without a fight. Within a 1/2 mile one of the guys had to pull up and send us on……about a mile later runner #2 of our 4-person group rolled his ankle. He was able to keep going and so we did…..by mile 4 (the turn around point) runner #3 turned his ankle and so the odds were not looking good for me. They assured me that it was an "old-guy" thing (I'm the junior member of this 4-some by +/- 15 years)…..but I wasn't buying it. Ankle sprains were a weekly thing for me up through my senior year in college, but I was able to be my own first PT case and get them strong……about 1x/year I roll one of them…..With 6 of 8 miles in the books, I stepped on something and SNAP, my left ankle rolled hard. "F##K" I yelled but hobbled through. It took about another 5-6 minutes but the pain let go and I was able to consider it a close-call.


Thursday = I went out for another hard tempo run, this time 6.5 miles. I pushed the tempo portion harder than is comfortable, but it went well and I survived.


Friday = Took the day off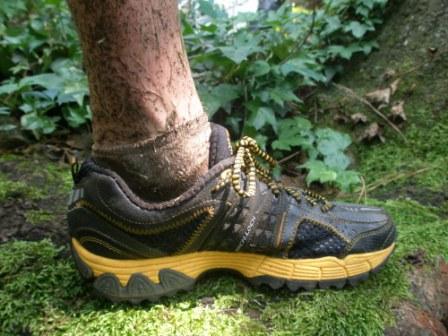 This shoe looks a little too clean for the leg inside doesn't it?
Saturday = Needed to get in a longer run and was able to sneak a couple of hours after two kid soccer games. Started out with some rolling hills and then hit the trails for something different. A little bit more muddy than I had hoped, but was able to get almost 15 miles in at a decent pace and felt pretty good…..don't know if it was the hopping associated with avoiding the uglier parts of the trail (a common thread I've picked up in Nick's Blog) or the higher-intensity, lower duration runs I did during the week, but my legs were cooked by the time I got back. My right hip and left knee were barking and I was glad to be headed for a shower.


Sunday = I contemplated getting a swim in today, but with an additional two kid soccer games on the docket, it didn't leave a ton of time. If I get inspired after I finish this, I might go head that way……my "moving parts" feel so much better after a swim…..but I'm not feeling super motivated…..so we'll see.


This coming week, I've got my work cut out for me. It's my second to last "big mileage" week with a 22 mile long run as well as at least another two mid-distance runs and possible some easy miles mixed in as well, but it's also going to be a little hectic with some meetings and such….so we'll see how it goes. I probably need to get up to around 45-50 miles total (8+10+5+22+5 or something?) without over doing, so planning is going to be important. I also have a planned 50 mile-ish bike ride thrown in there, more for fun than training, but that'll take the better part of Saturday.


______________________


So much to do and so little time…….and this is just the hobby-related-stuff. I should probably fit in some time for real life too.


Still searching for that 28 hour day….


Have a great week,


Mike E.