#6: a foundation of bricks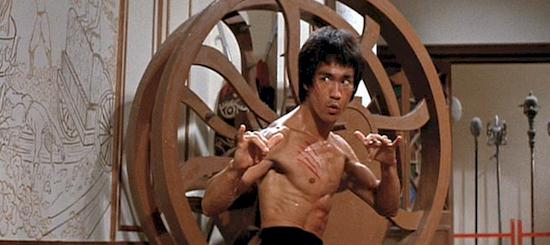 badass…a little thick around the middle by IM standards
needs to be somewhere in the emaciated range to have that
"tri-athlete look".
OK, by the 2 hour mark on the bike today, I was looking for something different to occupy my mind. I had already watched Harry Potter and so took a brief moment to scroll through the free on-demand choices…..wouldn't you know it, Enter the Dragon was a "new" free release……who can argue with a little 1973 action legend…..no doubt when crushing O'Hara (see below), it made going up an 8.7% grade somewhere in Utah that much easier.


ANYWAY….


The term "brick" in triathlon refers to the not-so-fun training method of going from one event immediately to the next in training…. essentially combining the two types into 1 session. I don't think anyone really knows where the term came from, but pretty common belief is that B[ike] + R[un] + 'ick'. I've also heard it's related to what your legs feel like as a result.
It's most common to "brick" a Bike+Run workout, but there are definitely those that recommend swim+bike bricks as well. The training goal is to condition your body (and more likely your mind) to be used to transitioning…..where much time is lost and the mental resolve so often begins to crack. So as I sit here with an achy left knee and sore lower leg, a R shoulder that has decided 3 hours in the aerobars was quite enough for today and a continually growing respect for friction (can I get an 'amen' from the endurance crowd?), I reflect on a week that included a jump in training volume, the end of 2010, #3's birthday and my first brick (of many) for this training season.
Week of 12/27 in Review
:
Training
: Looks like I'll have gotten in about 11 of my 12-ish scheduled hours. Had to cut short 1 swim b/c a swim-team was in the pool when I got there and I cut the bike short from 3:30 today to 3:00 hours b/c the L knee was getting cranky…..got to keep an eye on that. Overall it was a pretty good week quality-wise…..although feeling a little beat up as mentioned above.
Nutrition
: Nutrition was much better this week, although the early AM sessions definitely leave me crazy hungry about 2 hours later. I need to plan these out a little better. Truthfully, it won't be a problem very much longer b/c my work schedule goes to post-holiday mode, which means in the wee-hours of the AM, I'll be working, not training.
Mindset:
Glad to have this week behind me. Fighting my annual cold…..the 2 holiday weeks have a unique stress component, but are "down weeks" in the sense that I mostly do planning & office based work……my body decides I'm finally coming in for a landing and I get susceptible to just about anything floating around. Definitely seeking the "order and routine" of the other 50 weeks of the year. Overall though, this is a very minor bump in the road. Feeling pretty good with my endurance-base: 1:30 swimming, 2:20 running and 3:00 biking, which from the perspective of sheer time is a solid foundation at this point. I have to resist the urge to not feel slow at this point and want to push too hard.
Preview Week of 1/3
:
Training
: 13-14 hours planned (depending on tomorrow's swim), which is getting to a solid volume; 20-25/wk is the top end for most athletes.
Nutrition
: Same as last week – need the fruits & veggies and hydration…..finding myself carb-craving with the training volume increases…….but that's typical for me early on. In a week or two I'll have that under control and be back to my standard training fare.
Mindset
: Looking forward to this week. Lots to do, but the right setup to get it done. Work & Family life will begin to get back their (very relative) balance and should be able to make solid gains. Need to make sure I get enough rest though……to make sure the nicks and bumps I'm feeling don't manifest into more.
That's it, that's all, end of the mall for the Joel Cooper heavyweight hall and thank you driver for getting me there. Remember, wherever you go … there you are … so don't forget your papers. Mmmbyebye…..(Joel C).